18_11_15 ZIELONA GORA Grünbergerstr. 73 (Ubahn Samarite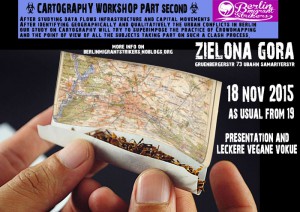 rstr) from 19
CARTOGRAPHY WORKSHOP
-PART SECOND-
After studying data, flows, infrastructure and capital movements. After identifying geographically and qualitatively the urban conflicts in Berlin, our study on cartography will try to superimpose the practice of crowdmapping and the point of view of all the subjects taking part on such a clash process.
after as usual.. LECKERE VEGANE VOKUE